asbjorn.it
Below is the latest posts from my blog.
Microsoft Corruption Perceptions Index
Last time we had a OOXML ballot, EFFI compared the votes against CPI. Back then we saw a big similarity. But this time the general CPI index seams to be more or less useless. Friday, Danish Standards Association (DS, representing Denmark in ISO) changed the Danish vote to yes even through the committee "voted" 8-4 against. If you look on the current CPI numbers you will see that Denmark is on a shared 1st place, with a rating of 9.4 on a scale from 1 (very corrupt) – 10 (less corrupt). According to informations presented by Leif Lodahl, the order not to vote, and let DS decide should come from the government. Has one of the least corrupt countries been bought by Microsoft? Apparently, yes. Is this the first time? Do you remember the blackmailing a few years ago? As a Groklaw reader commented back then:
Never pay the blackmailer, they'll just come back for more.
Well, as you can read on thankdenmark.info they did, and now they asked for more.
So one of the highest ranking countries in the CPI index have been bought, so have Norway (CPI2007: 9th / 8.7) their committee have voted 21-2 against OOXML, but ended up voting yes.
In Germany the committee was limited to 20 members, many of which ended up being filled by Microsoft Gold Partners.
If Microsoft so desperately want it's own named in front of everything, then lets give them their own CPI. So we know which country to migrate to? If there are any left, or do we just have to join the convicted monopolist for the champagne?
I certainly don't hope so. Let's see: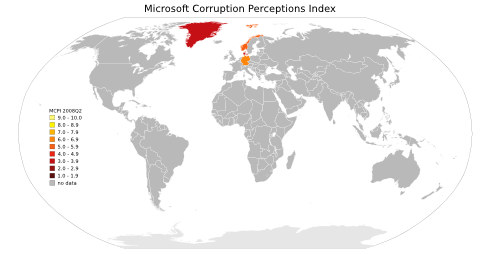 Click on the map for highres png, or download the SVG file.
| Country | MCPI | CPI2007 | Reason |
| --- | --- | --- | --- |
| Denmark | 3.0-3.9 | 1st / 9.4 | For now I have given Denmark a MCPI score of 3-3.9. I know theres a lot more, but I have only mentioned the grave ones because I'm not trying to write a book here. |
| Norway | 5.0-5.9 | 9th / 8.7 | I have given them a 5-5.9 rating because I don't know if Microsoft have a previous record in Norway. |
| Germany | 6.0-6.9 | 16th / 7.8 | I haven't followed the case close enough so I wouldn't judge them to hard, but just give them a 6-6.9 rating for now. |
All scores currently filed are very likely to change and more countries gets rated.
Please supply me with some other rating suggestions in the comments supplied with documentation. The more countries we can get in the index the better.
Another thing, why was Microsoft even allowed to vote in the committees? Microsoft should be considered ineligible to vote on their own standard proposal.
By asbjornit @Mon, 31 Mar 2008 00:39:37 UTC • Comments
D-Link and firmware updates
I am maintaining 4 D-Link switches in the building where I live.
3 x DES-3226S
1 x DES-3250TG
How do you find the most recent firmware update for them? Their web-site? Ok, I found a DES3226S_4.02B42 which according to the change log should work on my hardware revision (2B1). Err! Invalid firmware. try again. same result. After googling a bit I found a new change log for a 4.02B52, which I can't find on any of D-Link's official technical support pages or FTP servers. [...]
To make a long story short I have made a list of issues I have found while updating the 4 switches to the newest firmware:
No central web-site/database for firmware information
Which firmware is the newest heavily depends your country. The newest firmware firmware for DES-3226S is from late 2006, but on many of the official websites the newest was from 2003/2004/2005. Why does every country maintain there own database?
No central master FTP server
And just about every country have there own FTP server with there own content and own file structure, so its a byte random which firmwares they offers. The Russian one seams to be the best rough.
Poor QA
I think 450B25 was the only firmware for DES-3250TG on the Danish site. (was? the european sites currently doesn't exists, see 8). But you can't install DES-3250TG_450B25 on the hardware the change log says you should be able to. The DES-3250TG is revision 3A1 hardware and the firmware is for A1 harware. Is 3.00B09 -> 450B25 to big a jump? When the upgrade path should be described in the release notes, like it is for updates from v1 firmware. It would properly work if I could make the update step by step but I can't because there's no archive. However I manged to find 450B25 on the British FTP, but it still won't update to 450B25, even through there isn't any public releases in between, acording to the 450B25 release notes. Isn't that pretty basic QA? Updating form one firmware to the next.
No firmware archive
On most official sites you can only download the "newest" firmware, even when the change log states that you should update to 1.00.029 first, if you have 1.00.026. I haven't seen 1.00.029 anywhere else than the Russian ftp site and ftp.dlink.com, but not on the support pages.
Change logs / Release notes in doc format
The change logs are available in either plain text xor doc. Just stick to plain text, its a lot more lightweight.
Wrong metadata in doc files
Then where isn't a good official site for firmware information, what do you do? Google? Useless, since D-Link apparently have used a DES-3226S release notes document as template for the rest without changing the document title in Word! Stick to plain text.
Off-topic: Only provides MIB files for few devices in some countries
I can't find a MIB file for 3226S, but only for 3250TG.
Off-topic: Internal Server Error
When I wrote I think in point 3, it's because I couldn't check it because I got the following error when I tried hitting dlink.dk



Internal Server Error
The server encountered an internal error or misconfiguration and was
unable to complete your request.
Please contact the server administrator, ebd@dlink-web1.und.svefi.net
and inform them of the time the error occurred, and anything you might
have done that may have caused the error.
More information about this error may be available in the server error log.
----
Apache/1.3.31 Server at www.dlink-europe.com Port 9999


Very professional (it has been so for several hours)
The newest firmware for DES-3226S that I have been able to find is 4.03.B04 from Dec 22, 2006, yet I haven't been able to find it at any official web-sites, maybe next year
. I you come from the windows world and are afraid of CLI, might stick with 4.02B52 from Oct 3, 2006 which is currently the newest one with web-interface, and properly the last. But I will recommend the CLI, over the web-interface, which uses simple java applets for updating (which freezes on my machine; kill required), ECMAscript or basic server push HTML would have done a much better job there. Thanks to TAG Hosting for providing recent firmwares for DES-3226S when D-Link can't.
Now the 3 x DES-3226S are running 4.03.B04, but the DES-3250TG is still running 450B13, it won't eat the "recommended security patch" 450B25 firmware.
By asbjornit @Sat, 22 Mar 2008 04:29:01 UTC • Comments
FUSE for Windows: Status update March 2008
Not a lot have happend since the last status update on FUSE for Windows. I have moved a bit around, so I have got time to hack on WinFUSE, but according to Walco's Oct 22nd, 2007 comment:
A small update on the rent-a-coder project: I?ve contacted the developer, and he told me the fuse-win32 code cannot be published under the extended contract with the software buyer, at least not for the coming four months. Another interesting note is that the API is Fuse inspired, but not 100% Fuse compatible.
Which means that by now QualityDev should be allowed to release his code.
I have made a new bid request for QualityDev, now that he might be able to open source his code.
I think its very important to be 100% FUSE API compatiable. So creating a cross platform filesystem can be as easy as creating any other cross platform application. So even if QualityDev releases his code will have to make it 100% compliant.
If this fails I suggest that we begin reimplementing FUSE for Windows, which might make it easier to port it to other Windows versions.
I plan to spend this year's The Camp events on FUSE for Windows, either re-engineering it, or porting it to other windows platforms. You are more than welcome to join, but hurry we have limited capacity (40).
By asbjornit @Mon, 17 Mar 2008 16:02:39 UTC • Comments
500.000.000 official Firefox downloads
As of today approximately 04:47:41 AM UTC Firefox has been downloaded half a billion times. Congratulations Firefox! Lets celebrate tonight at the FOSDEM Beer Event.
By asbjornit @Fri, 22 Feb 2008 10:53:12 UTC • Comments
ODBC Swiss Army Knife: Initial Release
This post was written in March, so the relative dates are relative to March 2007. However I haven't got time to test it on before now.
Almost a year ago I started working on a new timetable web interface, since the old was broken, and before that it was slow as hell (>30sec). Well the old system used a Microsoft Access file as database. All the tables in the Access file, was in first normal form and the same data occurred multiple times, fx. you could have a date, dayoftheyear, ISO week, weekday number, weekday 3-letter abbr., full weekday columns in the same table. DOOH! 6 columns instead of just one single date column. Then add the fact that that table had 250k records, just for a few weeks of timetable information, one for each student / date / lesson / room / teacher combination.
The old data chain was:
Oracle (adm. db) -> ODBC -> Access (adm. network) -> FTP -> mdbtools (csv export) -> MySQL -> PHP web interface.
First revision of the new data chain was: Oracle (adm. db) -> ODBC -> Access (adm. network) -> FTP -> mdbtools (csv export) -> MySQL -> PHP web interface.
Because the old Access export worked and I could just use that. Despite all these extra columns, there where no column that identified the activity name. Hey! there are a activity column in the teacher_timetable table, so if the student have a teacher and they are in the same room then they must have the same activity. So after the timetable administrator assured me that I no students will ever be in the same room and have a teacher shared over multiple activities. I made the SQL, to split out the data in third normal form in MySQL. In September it happened all the teachers and students for the first 2 grades where gathered in the cafeteria. Therefore all students where now member of each other's activities. Well, I tried to edit the SQL to not to link people together, if there was multiple activities present in the same room. But the query was to complex to succed in a reasonable amount of time. In late September my i386 server got some heat problems, so I moved the timetable system to a new domU on my amd64 Xen server. But mdbtools is a unmaintained piece of software with tons of open bugs, and it doesn't work on amd64, so it was a bad component in chain.
So finally I got permission to replace the Access link in the chain. Therefore in november odbc2csv was in place.
This made the final chain:
Oracle (adm. db) -> ODBC -> ODBC SAK (adm. network) -> FTP -> MySQL -> PHP web interface.
First I wanted to name the tool odbc2csv, but that name was taken, so since this is only version 0.0.1 and I plan to at add multiple other functions, such as connection debugging, multiple connections, odbc2odbc etc. I believe odbc2csv would be too limited any way. I think ODBC Swiss Army Knife is more relevant, because it allows the project to expand beyond the the original scope of the project within the relatively limited scope of ODBC.
Features in 0.0.1:
ODBC it is possible to have a single ODBC connecting and executing SQL statements and get the result in CSV.
pwd, cwd and cd – Basic directory functions
Interactive command-line interface
Can read commands from file as alternative to the interactive interface
Microsoft Windows support
GNU/Linux support (requires unixODBC)
UNIX/BSD/POSIX support (requires unixODBC)
Visit the odbc-sak project page at sourceforge.net
Update: Since I wrote this I have graduated, and the school has been merged with Grenaa Business School (GHS). There the Grenaa Technical School's IT infrastructure has been merged with GHS, in a new setup very similar to GHS's old setup.
By asbjornit @Wed, 12 Dec 2007 00:52:24 UTC • Comments
Dataloss
Real men don't do external backups, they just cry.
All data since late august on this server has been lost, since Xen hadn't synced the disk
The backups was unfortunate located on another virtual machine on the same Xend server.
All of your comments will be restored from Google s cache.
Tomorrow I will install a dedicated backup machine.
No mails has been lost, it's another server with another backup system.
By asbjornit @Sun, 28 Oct 2007 19:03:12 UTC • Comments
FUSE for Windows: Status update
QualityDev on rentacoder.com has completed his work on FUSE for Windows, and delevered it to ValerySh. ValerySh has encouraged QualityDev to release his work under GPL/LGPL, but hasn't done so. Therefore I have posted a private bid request at rentacoder.com asking QualityDev to release the code in the WinFUSE project, so far he has looked at the proposal 3 times since I posted it July 22th.
The deadline for QualityDev to answer my bid request is August 19th, which is also my return date from Cuba.
I would also like to get in touch with ValerySh from Cyprus.
BTW: I will attend IT bachelor at University of Aarhus for the next 3 years.
By asbjornit @Sun, 29 Jul 2007 21:07:36 UTC • Comments
50,000,000 Thunderbird downloads
A little over 2 years after Firefox, its sister project has reached its first fifty million downloads.
The 50,000,000th download was reached at July 12th, 2007 at 15:30:18 UTC.
Back in April 2005, just before Firefox reached the fifty million downloads mark, I launched Firefox Statistics. In September or @31,604,556 I launched Thunderbird Statistics
Congratulations!!!
By asbjornit @Thu, 12 Jul 2007 16:14:41 UTC • Comments
The SFX feeds are frozen
The Spreadfirefox.com feeds are frozen again. Last time was around Christmasstime. This means that Firefox and Thunderbird Statistics are not being updated until the feeds are working again.
Bugzilla #369776
By asbjornit @Fri, 9 Feb 2007 23:17:12 UTC • Comments
Have a bad day?
Since midnight the following things has happened to my friend Martin, whom I share an apartment with.
He discovers that he has lost his nearly finished major project for English A.
The other guy I live with has deleted Martins notes, which he stored while Martins laptop is being fixed
He can't save his math, because Mathcad says: the disk is full of free space.
…
Read the rest in his blog post For the What?
By asbjornit @Mon, 5 Feb 2007 03:49:33 UTC • Comments